THE BRIDGE BETWEEN CONCUSSION AND RECOVERY
Concussion is often called an invisible injury because it cannot be easily measured. The invisible nature of concussion also makes recovery difficult and frustrating.
Welcome to Neurovine, where concussion research is merging with accessible technology for the first time – giving people control over their own concussion recovery.
Neurovine combines wearable technology, machine learning, and artificial intelligence to take the guesswork out of the return-to-play/work/life decision. And with the right tools, faster healing is possible.
The Neurovine Technology
We are excited to offer clinics throughout ontario and quebec the opportunity to try out the Neurovine solution, and at the same time, help us collect data that will help bring this technology to the masses.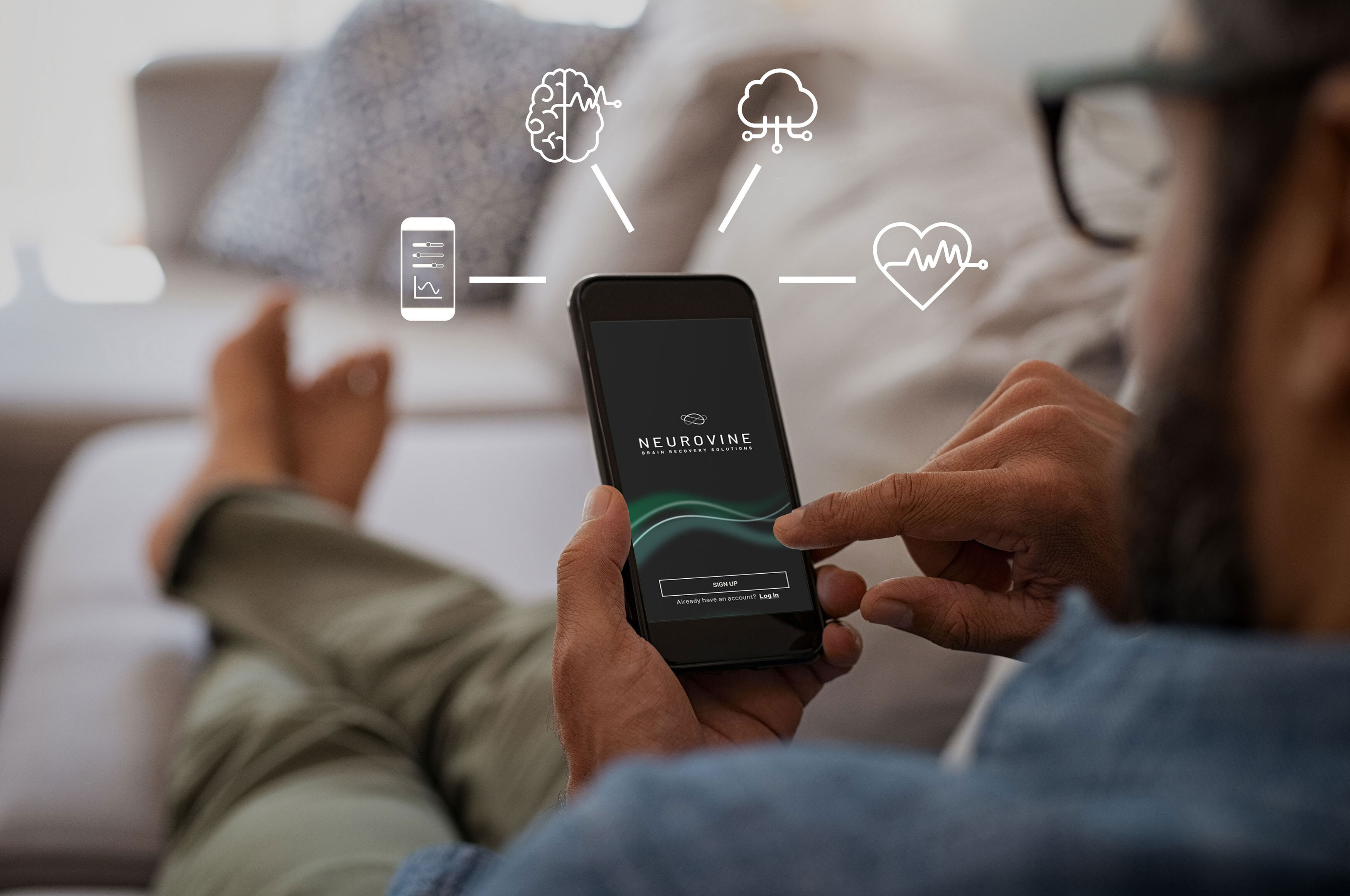 1- The App
Equipping patients with our mobile app means easy tracking of symptoms and helps you and your patient make informed decisions to help speed recovery.
2- The Cloud
Our HIPPA-compliant cloud storage means that communication between health care providers and patients has never been easier. View your patients' daily inputs and track their progress over time.
3- The Sensorband
Our comfortable, bluetooth-enabled EEG Sensorband monitors brain activity and sends alerts to your patients' mobile devices, warning them before they hit the zone of overexertion.
4- The Heart Rate Monitor
Health care providers can recommend sub-threshold heart rate limits for their patients. Patients will then get real-time alerts to their mobile devices to maintain the appropriate heart rate and avoid overexertion.
Test Drive the Technology
Neurovine's Concussion Program will help both physiotherapists and patients build concussion knowledge and learn how to speed up the time to recovery and return to everyday activities.
1- Overview
15-Minute Online Session
About Neurovine – how the technology works

Why it matters – how Neurovine's personalized approach to recovery can elevate your existing concussion treatment program by supporting patients in between their clinic visits
2- Post-Concussion Testing
Our researcher will lead your patient through 70 minutes of standardized mental and physical tasks

A comfortable EEG Sensorband records the brain's activity during the session
3- Data-Driven Recovery
The patient is then given the mobile app and headset to aid their recovery at home

Health care providers have access to the patient's data in order to make informed decisions throughout their recovery
Safety and Privacy Protocols
Neurovine takes your patients' safety and privacy seriously. Here is a brief outline of the protocols in place to both keep data secure and the community safe.
Testing is conducted completely virtually through a secure video link with researchers

Participation is voluntary and all data will be kept confidential

All participants must sign a waiver, co-signed by a parent if the participant is under 18

All COVID-19 protocols will be strictly adhered to (e.g. wearing of masks, keeping a safe distance, hygiene, etc.)
See the full eligibility criteria on the Research Page